---
Fire damage to photovoltaic systems
---
The causes of fires in photovoltaic systems can be varied. Consequential damage
should not be ignored, and should be identified and rectified immediately.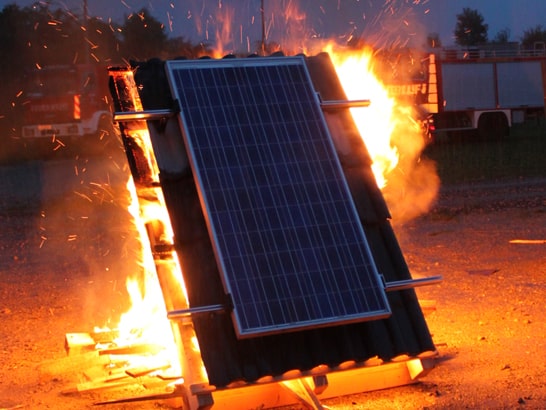 This may involve inverters or modules: Fire damage is a safety risk
More information?
Do you have any questions about the measurement procedure?
or individual requirements?
Give us a call
Detecting and repair
fire damage
Fires in PV systems can have a wide variety of causes. These include product faults, installation errors, planning errors or external factors such as fires in the immediate vicinity (in neighbouring buildings): The damage may be considerable and usually it is necessary to replace the individual parts.
Although the inverter is considered the number one cause of fire, the modules are deemed to be the second most significant cause of fire. Fires occur most frequently in April, May, June, July and August, when there is the most sunlight. This is not necessarily due to the ever hotter outdoor temperatures, thunderstorms and lightning can strike modules during this period.
If fire damage has occurred, a thorough inspection is necessary. By providing verified results, SUNLAB ensures more reliable and safer PV modules.
The following damage can result in fires:
Melting of metallic compounds
The heat generated by the fire can melt and break individual metallic components and compounds.
Melting crystals in cells
The cells themselves can also be damaged in the event of a fire. The heat generated also melts the crystals in the cells and renders them inoperable.
Safety risk and risk of a short circuit
As fires generally have unpredictable effects on the system and materials, the modules and the entire system become a safety risk if operated without being tested.
Your enquiry:
Email us if you have any further questions. We will be pleased to advise you!