---
Check the solar module for wear – when your module is not as new as it was any more
---
Photovoltaic modules are noted for their durability over many years
and usually only age "around" the edges ...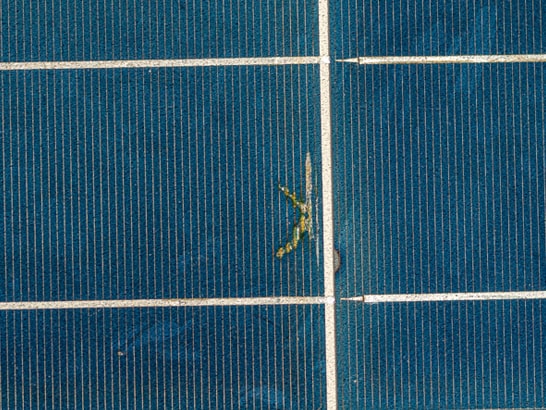 The outer casing of PV modules ages faster than the cells
More information?
Do you have any questions about the measurement procedure?
or individual requirements?
Give us a call
PV modules have a very
long life, but ...
As a rule, solar modules last for 20 to 25 years – as far as the guarantee is concerned. However, according to experts from the Frauenhofer Institute, there are no physical reasons that should limit the function of a solar cell installed in the module. This means that a solar cell can function for 40 years or more. Of course, sound workmanship is always a prerequisite.
Problems occur "around the edges" –
therefore the solar module should be checked for wear
Problems can occur more with the other materials. The front glass, non-watertight junction boxes or the film on the back can impair the function of PV modules as a result of wear. Factors such as soiling or browning in the plastics used can also shorten the effective life of the modules. SUNLAB checks PV modules for their degree of wear.
Wear can be seen as follows:
Non-watertight areas
These include the film on the back, damage to the glass cover or browning of the plastics used: Signs of wear appear on the outer casing.
Soiling
Constant soiling is less of a consequence and more a cause of wear to the PV module. This factor influences the effective life of your modules.
Connections and inverters
Non-watertight junction boxes are a natural consequence of years or decades of external operation of the PV system. Inverters are also affected: They have an effective life of approx. 10 years. You have to reckon that their replacement will be necessary
The following information and codes will help you to find us in search engines:
If photovoltaics or solar modules show signs of wear, SUNLAB can carry out the necessary tests. Whether the systems come directly from the manufacturers or from customers is irrelevant. The performance of the solar modules in the test provides reliable results. The output of solar modules is important – especially if manufacturers of solar modules wish to ensure the best quality. Since electricity from roof-based renewable energy sources is becoming increasingly important, trouble-free PV systems are essential for this energy transition.
Other search engine-relevant terms:
Whether manufacturers, installers or end customers: SUNLAB is ready to assess your module. The solar cells are the core of the photovoltaic system – their performance and efficiency in generating electricity are important. Thanks to fully functioning photovoltaic modules, you can generate electrical energy from your roof-based solar system.
Your enquiry:
Email us if you have any further questions. We will be pleased to advise you!