---
Check solar modules for
insurance companies and experts
---
In the event of a claim or even a dispute, third-party assessment
of modules are of great value to insurance companies.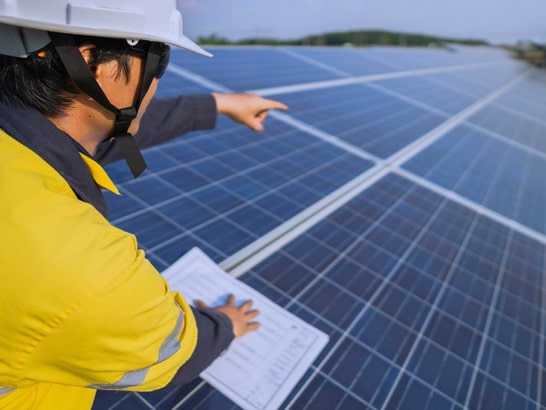 SUNLAB carries out independent audits
for insurance companies
More information?
Do you have any questions about the measurement procedure?
or individual requirements?
Give us a call
Impartial body for testing solar modules for insurance companies
SUNLAB provides highly sophisticated technology and a know-how in photovoltaics that has evolved over many years to support insurance companies. We use a wide range of damage analysis and testing methods to determine whether and to what extent PV modules have been damaged.
For clarity in cases of
doubt or dispute
As a independent body, we are thus available to provide expert assessments in disputes and cases of doubt, providing clarity for insurance companies and insured persons. We present our test park in the technology section. We also present a portrait of the most frequently occurring losses in the claims area.
Partnership with
insurance companies:
Independent testing
As an independent body, SUNLAB can check solar modules for insurance companies and insured parties.
Experience in photovoltaics
The SUNLAB team has many years or even decades of experience in the photovoltaics sector.
The following information and codes will help you to find us in search engines:
Have PV system modules tested for insurance purposes. Ensure photovoltaic system function. Achieve plant safety in terms of performance and costs. Insure defective photovoltaic systems equipped with solar modules. Check the system or photovoltaic system for insurance purposes. The test in SUNLAB shows whether hail, storm or any other impairment has had an impact. Microcracks (see fracture mechanics ) on modules, for example, cause reduced performance. Does insurance cover for photovoltaic modules apply? What about residential building insurance or loss of earnings insurance? SUNLAB GmbH provides operators with answers. Regardless of whether it is a small or large solar system.
Electroluminescence - in short: EL - is however only one of the many test procedures available at SUNLAB. We detect damage through performance measurement. SUNLAB also works directly for photovoltaic insurance companies that insure solar systems. And SUNLAB also tests for manufacturers.
Your enquiry:
Email us if you have any further questions. We will be pleased to advise you!